Penang is home to an estimated population of 1.78 million people.  In 2018, its contribution to Malaysia's GDP was valued to be RM96.9 billion.
An island state, Penang is an international centre for high-tech manufacturing and services, as well as renowned Asian tourism destination. George Town, its capital city, is listed by UNESCO as one of the "Historic Cities of the Straits of Malacca".
There are many good reasons why Penang continues to serve as a  successful hub for progress in Malaysia's Northern Corridor Economic Region (NCER). A fundamental and understated reason is continuous good water supply
Inherent strengths and great potential aside, Penang is a water-stressed state. With a small geographical footprint of only 1,048 sq. km, it is naturally short of raw water resources.
In 1999, Perbadanan Bekalan Air Pulau Pinang Sdn Bhd (PBAPP) was corporatised to manage water supply sustainably for Penang. There has been no incidence of water rationing in Penang in period 1999 to 2019.
Nevertheless, it is worthy to note that in 2018, more than 80% of Penang's raw water was abstracted from only one primary raw water resource: Sungai Muda.  The mid-point of this river serves as a boundary between Penang and its neighbouring state of Kedah.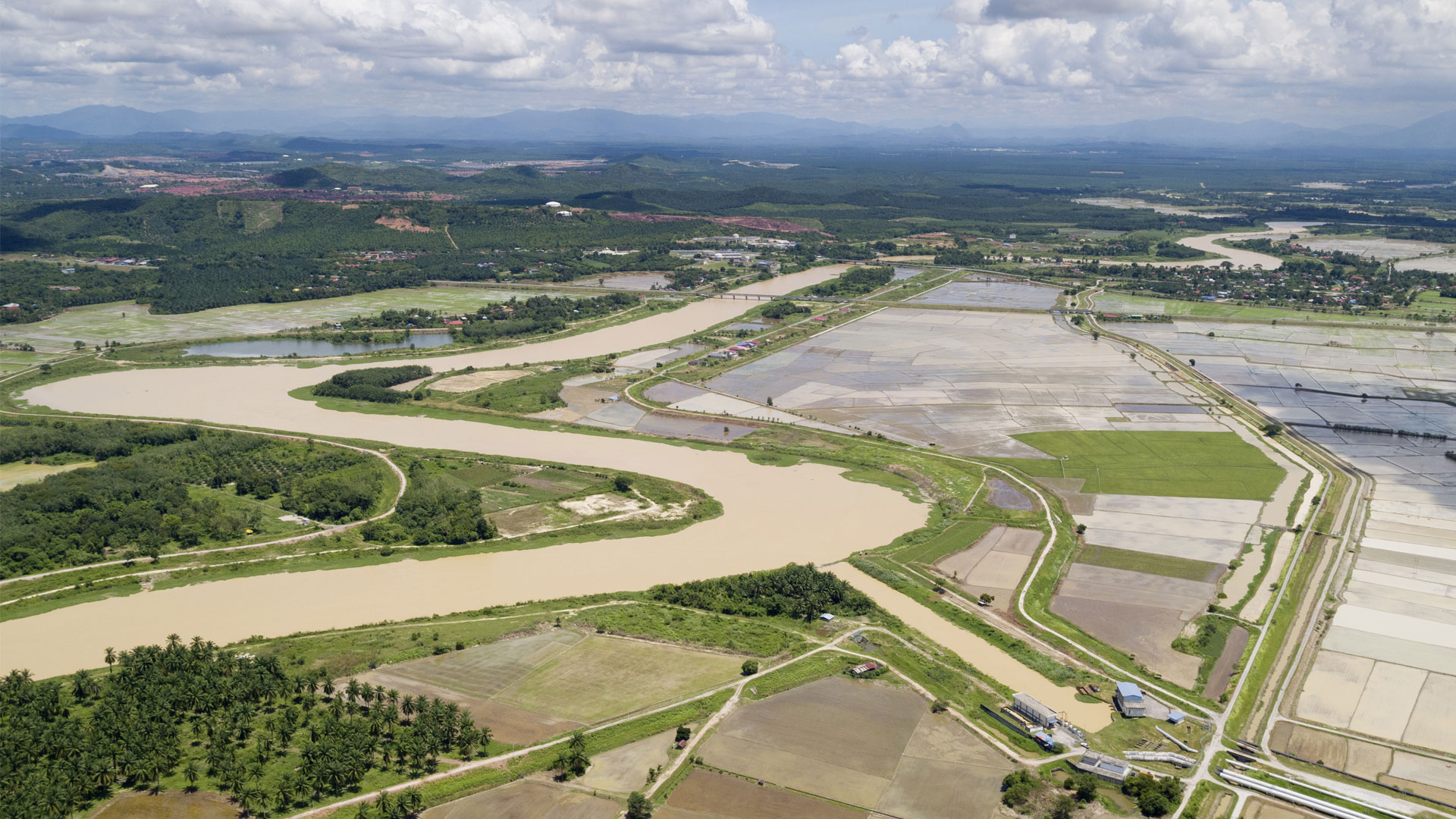 PBAPP abstracts raw water from Sungai Muda on Penang soil, at the Lahar Tiang Intake. This intake is located downstream of 14 Kedah water treatment plants and 4 irrigation intakes.
In 2018, Penang's average water consumption was 840 million litres per day (MLD). Water consumption is projected to reach 1,483 MLD by 2030; 1,696 MLD by 2040 and 1,884 MLD by 2050.
It is not possible for PBAPP to abstract sufficient raw water from Sungai Muda to meet Penang's future water demand. Moreover, Kedah is undertaking the 2,592 MLD Jeniang Water Transfer Project, to abstract more water for itself from Sungai Muda, in the near future.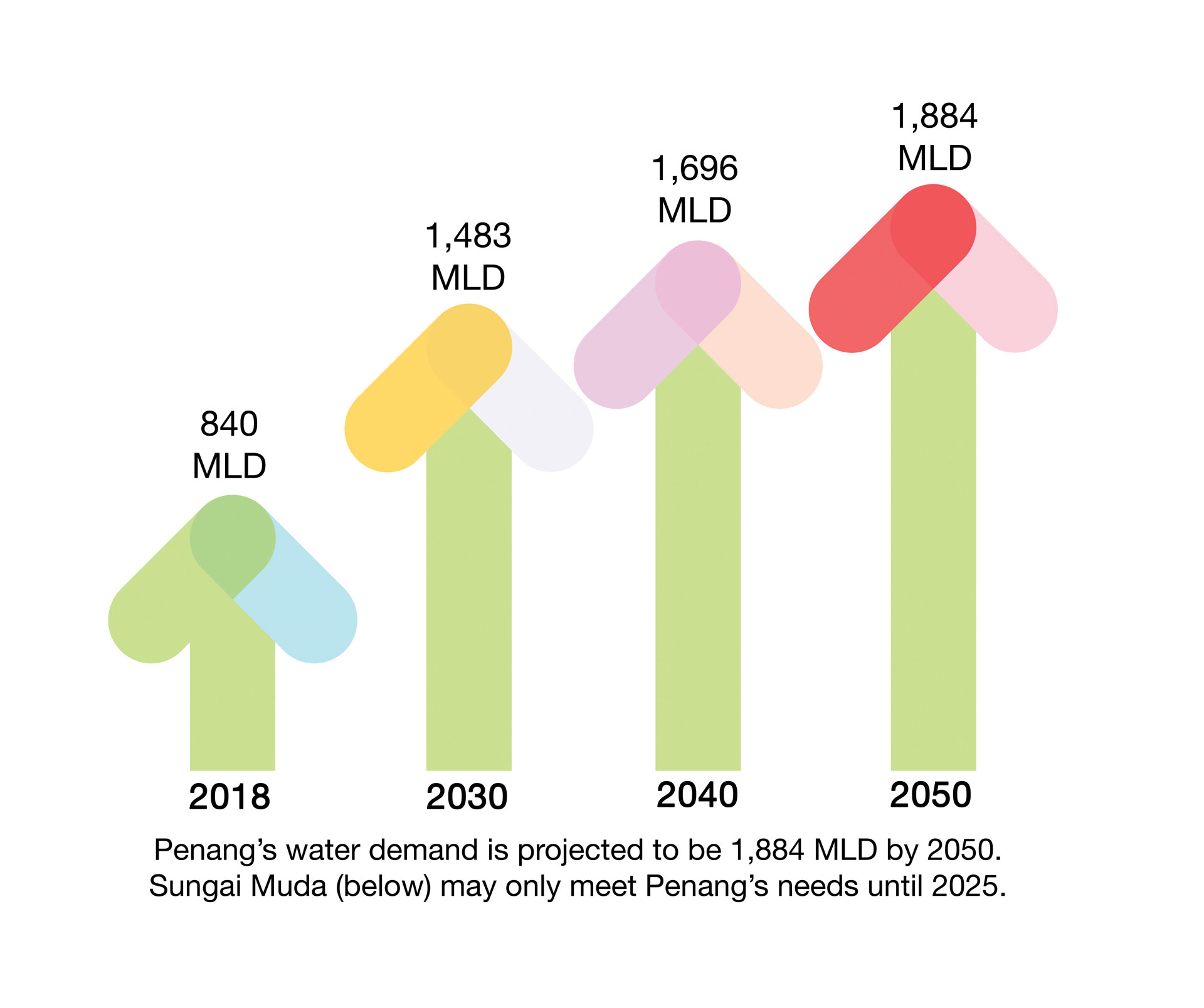 As such, PBAPP must tap a second major raw water resource for Penang soon.
In 2009, PBAPP commissioned an independent "Masterplan Study for Potable Water Supply in Penang until 2050".
The masterplan study report noted that Sungai Muda may only reliably meet all of Penang and Kedah's raw water needs until 2025.
Accordingly, the report recommended the Sungai Perak Raw Water Transfer Scheme (SPRWTS), for Penang to tap more raw water from another river in a neighbouring state: Sungai Perak in Perak.
Bearing in mind the impending 2025 deadline, PBAPP and the Penang State Government had actively sought the implementation of SPRWTS. The previous Federal Government failed to implement the SPRWTS, in the period 2011 to 2018.
The previous Federal Government failed to implement the SPRWTS, in the period 2011 to 2018.
With the change of Federal Government in 2018, hope has arisen for the prompt implementation of the SPRWTS to mitigate Penang's risks of a raw water crisis in the future.
Two key challenges must be addressed soon, with Federal Government support, mediation and intervention:
Penang wants raw water from Sungai Perak but Perak only wants to sell treated water to Penang.
The projected implementation timeline for the first phase of the SPRWTS is 6 years; and 2025 is exactly 6 years away.